2016-03-31 13:37:09
Finalmente disponibile il volume Rock oltre Cortina
2015-01-14 18:38:15
BLOGGING IS NOT A CRIME
2014-09-22 12:37:48
Riordinate ed aggiornate le liste punk e new wave
Deep Purple
Might Just Take Your Like/Coronarias Redig
Mega rare turkish only picture sleeve!!!
Prezzo: €160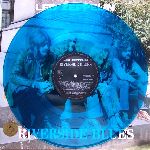 Led Zeppelin
Riverside Blues
Very rare live album on blue vinyl, 1969 recordings and wonderful cover with Sandy Denny.
Prezzo: €90
Jethro Tull
Jethro Tull
Mega rare German record club only compilation, amazing unique cover!!!
Prezzo: €160
Archivio rarità
Le 100 rarità più importanti
Great White Wonder
Rare TMOQ double live 2LP, insert stickered on back, blue & red vinyls. Rare studio outtakes + live recordings.
Prezzo: 280€
Vedi tutte le novità