2016-03-31 13:37:09
Finalmente disponibile il volume Rock oltre Cortina
2015-01-14 18:38:15
BLOGGING IS NOT A CRIME
2014-09-22 12:37:48
Riordinate ed aggiornate le liste punk e new wave
John Lennon & Yoko Ono
Two Virgins
UK original 1st issue on Apple, legendary John & Yoko nude cover.
Prezzo: €280
Velvet Underground
The Velvet Underground And Nico
USA original verve unpeeled banana cover, MONO issue, great copy!!
Prezzo: €650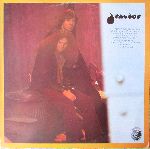 Tractor
Tractor
UK original issue on Dandelion, melodic progressive masterpiece.
Prezzo: €370
Archivio rarità
Le 100 rarità più importanti
Seaside Woman
Canadian press, this is Paul McCartney under another name!
Prezzo: 15€
Vedi tutte le novità